As diverse as the solutions on the market
You would like to optimize your business processes in your company and are seeking for a new solution? You can't decide between a diversity of providers and solutions? You need someone who can understand the requirements of your line of business, records those and communicate those in natural language to the technical department and supports you with price negotiations and project implementation?
Whether standard solution or in-house development, whether intern or extern assigned projects, whether for the contractor or for the purchaser, MKT Solutions understands the language of all participated stakeholders and can support you from the selection of an appropriate provider to the implementation of projects. On the strength of multifaceted working experience of many years, MKT Solutions is familiar with the market, from the view of the procurer as well as from the provider, by this way a real value for the selection and implementation of projects can be offered.
MKT Solutions disposes of well-grounded market knowledge about provider and implementa-tion parties for the automatized capturing, analyses, output and archiving of data and also knows its ecosystems, which embraces those, whereby in some cases alternative provisioning avenues are possible. Big providers often advertise, that they are full service providers, but they don't even know the solutions they bought in their portfolio in addition and there is the risk, that those will not be further considered in their development.
MKT Solutions supports you with finding a common base for the requirements of a solution between the stakeholders, this while considering the environment, in which the solution should be applied. MKT Solution determines, specifies, records, checks and manages the requirements of projects for you.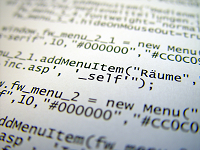 MKTs IT-Know-how
A consolidated platform from a full-service provider or rather a "Best-of-Breed" solution? MKT Solutions can support you with the selection and specification.